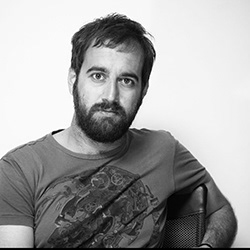 I was born in 1983 in Zakynthos, Greece. My main studies were in engineering, but I also attended lectures at "Focus school of Art Photography" in Athens.
"My photographs are not meant to represent reality or specific locales. Instead, they depict my own subjective feelings about nature, its wildness and unpredictability, and the mystery and psychic emanations of places and peoples."
I have participated in many art exhibitions, both in Greece and abroad. One of them was the APhf 2010, where I received the title "Young Greek Photographer" by the Hellenic Center for Photography. 
I am the owner of Anima Vision a media production company based in Greece.
My photo "A class room in Rwanda" published in "Portraiture of Humanity" book by Hoxton Mini Press and being shortlisted next to some legendary photographers. An initiative by British journal of photography & Magnum photos.
In 2014, my work was exhibited in one of the most prestigious galleries in New York, Agora Gallery.
My photos "Vesturhorn Iceland" and "Icelandic Horses" were selected among the 10 best photos of "Travel and Nature'' and '' Wildlife'' categories respectively at Sony World Photography Awards 2016, the biggest competition in the world, with 230.103 entries from 186 countries.
Furthermore I have won the Pangea Gold Prize at Siena International Awards 2019 and won the 1st Place (Photographer of the year - Greece) at One Eyeland Photography Awards 2018 
Exhibitions
2010 – I was chosen by the Hellenic Center for Photography as "Young Greek Photographer" for the International Festival – APhF 2010.
2010 – Collaboration with various artists to produce an art festival in zakynthos
2011 – Photography Exhibition during Holy Week of Easter at Barrage Culture.
2011 – Photographic Exhibition at Spiritual Center of Zakynthos – Solomo's Square during Hellenic Cultural Congress of OTE.
2012 – Exhibition at Lobby Cafe, Zakynthos
2013 – Night Photography and Astrophotography Workshop" by Nick Kontostavlakis during the 2nd International Festival of Art and Creation.
2013 – Solo Exhibition at the opening of the Art CAfe – Bliss "On the Road"
2014 – Photographic Exhibition Agora Gallery , New York